Restorative Dentistry
Restore Your Smile, Restore Your Life!
At Northside Family Dentistry, our primary goal is to prevent dental health problems before they arise. We do this through patient education, preventive care, regular exams, and teeth cleanings. However, when we only see you in our office twice yearly, the other 363 days are up to you.
If you're ready to discover the difference that skilled and compassionate dental care can make for your family's smiles, give us a call today at (931) 398-5170 and schedule a visit for the whole family!
Don't Wait for the Problem to Resolve Itself… Because it Won't!
We know, just like us, our patients are human, and nobody's perfect. Even with the most diligent care, sometimes disease, accidents and decay happen. Thankfully, modern restorative techniques and materials allow us to repair or replace teeth to look, feel and function just like your natural teeth!
If you have a tooth that's been damaged by disease, decay or injury, you should seek restorative treatment as soon as possible. When teeth are allowed to remain damaged or missing, it leaves your oral health vulnerable, and will only get worse over time. Not to mention it can become difficult or painful to enjoy your favorite foods, to speak normally, and to smile with confidence. A dental restoration can improve the look, feel and function of your smile, boost your confidence, and allow you to live your life to the fullest!
Restorative Dentistry Services
At Northside Family Dentistry, we use only the most advanced technology and materials to create life-like restorations that mimic your natural teeth in form and function. If you have an infected tooth, a broken tooth, or missing teeth, we have plenty of options to restore your smile back to health.
Restore Your Smile, Your Confidence &
Your Quality of Life
SCHEDULE NOW
---
Same Day Crowns
CEREC® Same Day Crowns
Do you have a tooth that's been damaged by disease, decay or injury? Your Crossville dentist, Dr. Johnny Shanks recommends repairing teeth with dental crowns to restore health, function, and aesthetics. To better serve our patients, we've invested in a high-tech CEREC® milling machine that allows us to design, fabricate and place crowns in a single appointment!
Give us a call at (931) 398-5170 to schedule a consultation!
What is a crown?
Dental crowns are useful in a number of restorative situations. Dr. Shanks uses dental crowns to repair teeth that have suffered from extensive decay or damage, whether from an accident, excessive wear, or deteriorated fillings. While fillings are designed to fill cavities, crowns cover the entire tooth for maximum protection. Whatever the reason your tooth is damaged or decayed, Dr. Shanks can restore your smile to its rightful state of beauty and function using CEREC® same day crown technology.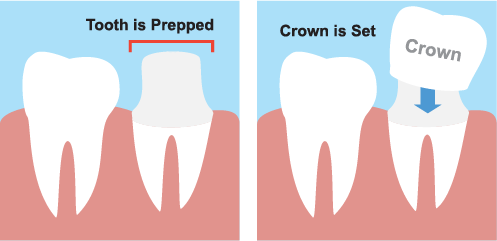 CEREC® stands for Chairside Economical Restoration of Esthetic Ceramics, or Ceramic Reconstruction. Rather than using messy goop to take impressions and sending them to a dental laboratory to be created, CEREC® uses computer aided design and manufacturing technology (CAD/CAM) to design, fabricate and place restorations chairside in a single visit.
What are the benefits of CEREC® same day crowns?
There are many benefits in restoring teeth with CEREC® same day crowns, including:
• Restore health
• Restore function
• Restore aesthetics
• Digital impressions
• No temporaries
• Fewer injections
• No return appointments
• Crowns in a day!
Once we place your dental crown, your tooth will be protected from further deterioration and will return to full function. The best part is we design your crowns in-house at Northside Family Dentistry using CEREC® technology, creating restorations that look, feel, and function just like natural teeth—all in one visit! No one will know your smile is supported by an excellent little piece of dental technology.
---
Bridges
Bridge the Gap in Your Smile
Has your smile been compromised by a missing tooth or multiple teeth? Do you now find it difficult to speak normally, to enjoy your favorite foods, or to smile with confidence? Allowing teeth to remain missing not only hinders the functionality of your mouth and the appearance of your smile, but can also cause a whole host of other oral health problems. A dental bridge might be the perfect solution to restore your smile, your confidence, and your quality of life!
Give us a call today at (931) 398-5170 to find out what a bridge could do for you!
Effects of Missing Teeth
Your oral health is like a domino effect. It's a complex system, and when one piece of the system breaks down or goes missing, the rest will eventually follow suit.
When missing teeth are allowed to remain missing, it can cause serious problems including:
Surrounding teeth begin to shift or rotate
Bite becomes compromised which can cause TMJ problems
Underlying jawbone deteriorates
It can be difficult or painful to eat
Speech may be effected
Confidence in your smile wanes
How does a bridge work?
Dental bridges work by literally bridging gaps between teeth. Dr. Shanks performs this procedure by anchoring dental crowns to the teeth on either side of a gap and filling it with a bridge of one or more fabricated teeth. It's important to take care of gaps so that we can fix problems with your bite, prevent your other teeth from shifting or rotating, and restore functionality and natural beauty to your smile. The result is a healthier smile and more confidence. We knew you'd like that part!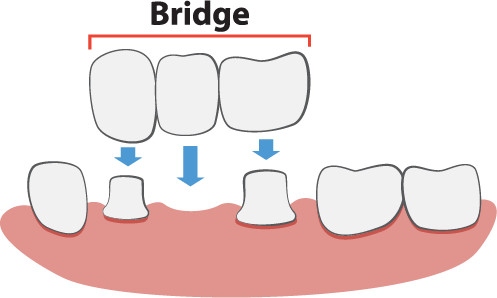 ---
Dentures
Get Your Confident Smile Back
Have you suffered the loss of most or all of your natural teeth? Whether that loss occurred slowly over time due to gum disease or decay, or it happened all at once from an injury, we know it's a traumatic experience, and we think you've suffered enough. Our compassionate team at Northside Family Dentistry in Crossville wants to help you regain your smile, your confidence and your life with dentures!
Give us a call at (931) 398-5170 to schedule a consultation and find out if dentures are right for you!
Dentures for the Modern World
For Crossville folks missing several or all of their teeth, dentures may be the perfect solution. Dr. Shanks can set you up with a great set of full or partial dentures to help improve your ease of speaking and eating, digestion, confidence, and overall quality of life. Dentures can be removable prosthetics that work on their own or fixed in place in conjunction with dental implants.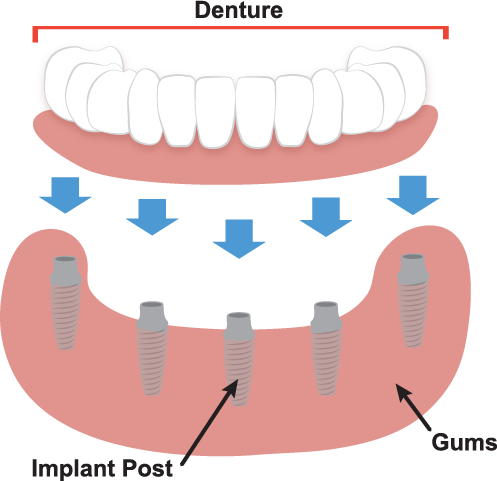 Implant Supported Dentures
If you are a good candidate for dental implants, meaning you have a healthy and dense enough jawbone to support them, Dr. Shanks will likely recommend implant supported dentures for the most life-like feel, fit, and function. Dental implants are currently the gold standard in modern tooth replacement technology because they function just like a natural tooth root to protect your oral health and jawbone, and stabilize restorations.
Dentures don't have to be clunky and ill-fitting, and you don't have to settle for messy adhesives and removables. Get a permanent, secure solution with implant supported dentures!
As with all restorative treatments, we prefer to give you a thorough examination first so Dr. Shanks can determine the best treatment options for your unique dental needs. Factors such as current oral health and jaw bone density may play a big role in whether or not removable dentures or implant supported dentures are right for you.
---
Root Canals
Save Teeth & Prevent Further Infection
If a nerve within one of your teeth has become diseased, a root canal is your best bet for saving the tooth. Advances in dental medicine have provided this solution to nerve problems, which were once thought to be the end of a tooth. Crossville dentist Dr. Shanks wants residents to know that today, a root canal is a fairly simple and painless procedure that can save your tooth in only a few visits to Northside Family Dentistry!
Call (931) 398-5170 to schedule!
Why do I need a root canal?
We are used to thinking of nerves as very important, but this is not necessarily the case with teeth. Once a tooth has erupted (emerged from the gums), the nerve within it only has one job – telling you if you are drinking hot coffee or cold soda. That means that removing the nerve will not affect the tooth negatively. However, nerves can become a problem when deep cavities or cracks let bacteria inside your tooth, which can lead to infections, abscesses, swelling, and severe pain. Left untreated, the infected nerve may cause harm to your jawbone, result in the loss of the tooth, and lead to serious general health problems.
How do I know if I need a root canal?
If you are experiencing extreme sensitivity to hot and cold, a severe toothache that intensifies while chewing, swelling and/or tenderness in the surrounding gums, or dark discoloration of the tooth, it is important to visit Northside Family Dentistry as soon as possible, because you may need a root canal. However, diseased nerves may not cause any pain at all, so make sure to see Dr. Shanks for your regular checkups and cleanings!
How does a root canal work?
In some cases, the Northside Family Dentistry team may refer you to an endodontist (a dentist specializing in root canals) to perform the procedure, which can take up to three visits to the office. First, your doctor will administer anesthesia to numb your mouth. Next is the removal of the infected nerve and surrounding tissue. Once the tooth is free of the damaged elements, your Crossville dentist will clean and seal the inside of the tooth, and then apply a dental composite to fill the tooth.
If the damage was severe enough to compromise the structural integrity of your tooth, it may be necessary to use a crown to prevent any further problems. Now, your root canal is over! The best part is that if you continue to visit Dr. Shanks at Northside Family Dentistry for your regular checkups, and brush and floss regularly at home, your tooth may stay healthy for the rest of your life.
Contact Us
If you are a Crossville resident and suspect you might be in need of a root canal, don't wait for further damage, please call Dr. Shanks and our friendly team at Northside Family Dentistry at (931) 398-5170 to schedule a consultation.